So, dear artists, do you like huge and brutal cars? If so, then this instruction on how to draw a monster truck for beginners will definitely appeal to you! Note that previously the team of DrawCarz.com has already shown you how to draw a monster truck, but the current instructions will be much easier.
How to Draw a Monster Truck for Beginners
Step 1
So, let's start by creating the silhouette of our mighty monster using very rough and light lines, as the artists of DrawCarz.com did in the image under these words.
Step 2
Using two large semicircles, depict the powerful wheel arches. After that, depict a single door, both bumpers and of course the lights.
Step 3
Just below the body, depict huge monstrous wheels. Then, using a large number of simple lines, depict the suspension elements.
Step 4
Now, with the help of very dark and beautiful lines, trace the front part and the cabin of the monster truck drawing.
Step 5
This stage of the instruction on how to draw a monster truck will be the easiest because here we just darken the back part.
Step 6
Now let's darken and clean the entire lower part of the monster, including the suspension and huge wheels, which should be perfectly round.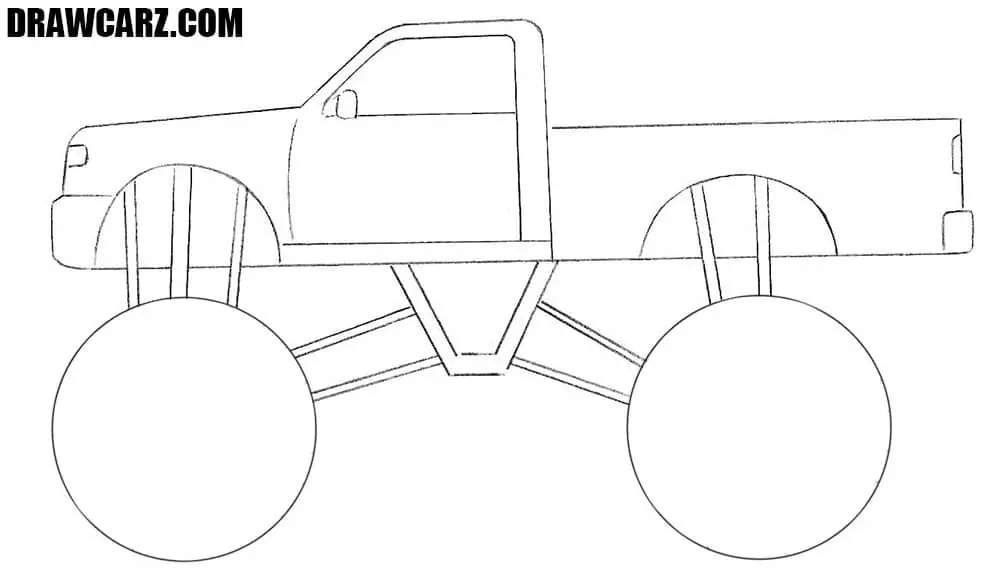 Step 7
Now let's give the monster truck drawing a more realistic look. To do this, depict the tread pattern and rims details. So, if you did everything right, and were not mistaken anywhere, then your drawing of a monster truck should look something like this:
So, dear friends, the instruction on how to draw a monster truck for beginners has come to its very end. You can leave your work of art as in the last stage, or add shadows to give it a more realistic look. You can also paint the monster truck to make it more lively and even more voluminous.
Also, do not forget that DrawCarz.com has pages on all social networks that you can only imagine. Be sure to subscribe to us and share your artworks created on the basis of our instructions.