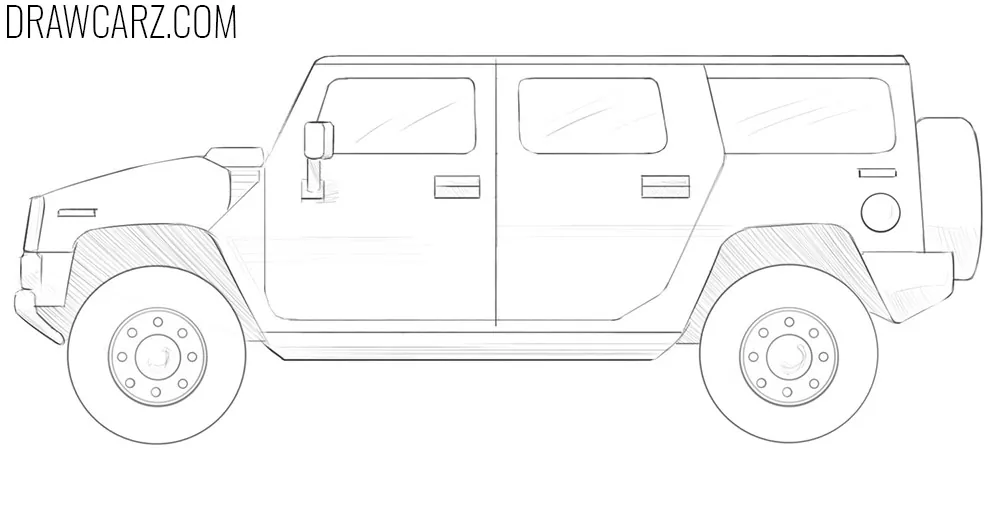 In this drawing instruction, the team of Drawcarz.com will show you how to draw a big car using the example of a Hummer.
Despite the fact that today we are drawing a large car using the example of a Hummer, using the knowledge gained in the steps below, you can draw any other SUV.
How to Draw a Big Car
Step 1
Let's start with the fact that with straight clear lines will depict the outlines of a big car, placing it on paper. At this point, the artwork should look like a blank for a sculpture.
Step 2
Now, using the same straight lines, create the window frame and the windows inside. Next, at the bottom of the body, depict the front and rear arches using smooth lines.
Step 3
Adjust the corners and lines of the windows, making them slightly more rounded. Next, using straight and clear lines, depict the side doors. Depict a long horizontal line at the top of the body.
Step 4
In the front corner of the front door window, depict a vertically elongated rear-view mirror. Next, depict the handles in the shape of small rectangles.
Step 5
In the front of the Hummer, draw the side visible part of the radiator grille. Next, depict the side lower part of the front bumper protection. Finish this stage by depicting the lines of the hood.
Step 6
At the back of a large car, depict a spare wheel. After that, depict the gas tank hatch in the form of a circle. In the same stage, depict the rear bumper and sidelights.
Step 7
Carefully get rid of all construction lines. Now depict the front and rear wheels as perfect circles. Draw rims inside them, which should also be perfectly round.
Step 8
Depict circles in the center of each rim. Next, place smaller circles around these circles. These circles should be perfectly round and equidistant from each other.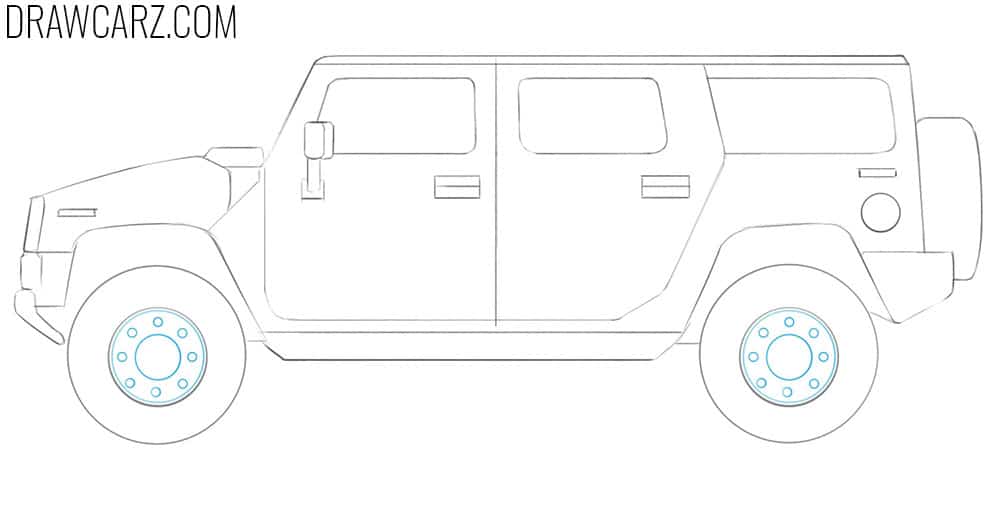 Step 9
Use simple short lines to draw highlights on the glass surfaces of the big car. Next, depict shadows, starting with darker areas and working towards lighter ones. Don't forget the semitones.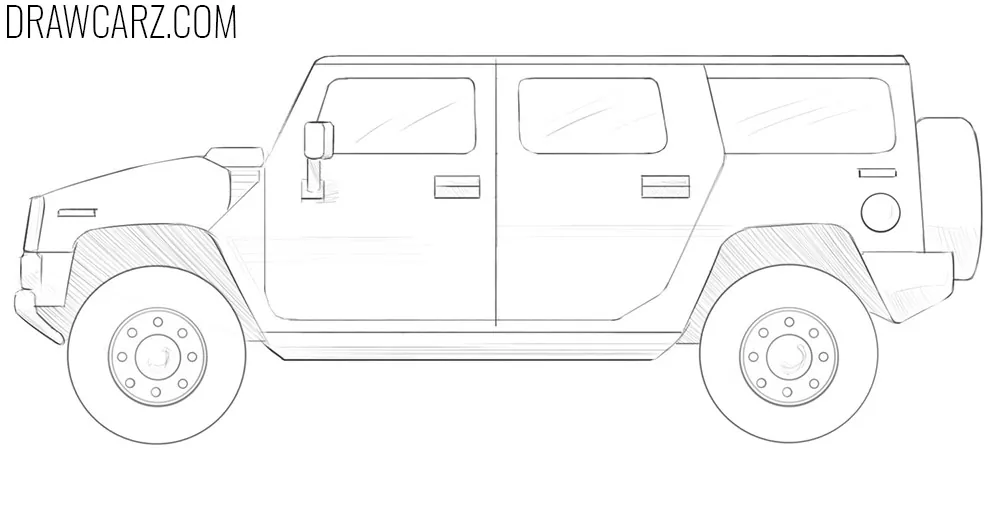 These were the nine stages of the instructions on how to draw a big car. You can continue to add shadows and highlights to make the artwork look even more voluminous and realistic. You can also add other details to the car, such as inscriptions on the body or passengers inside the cab.