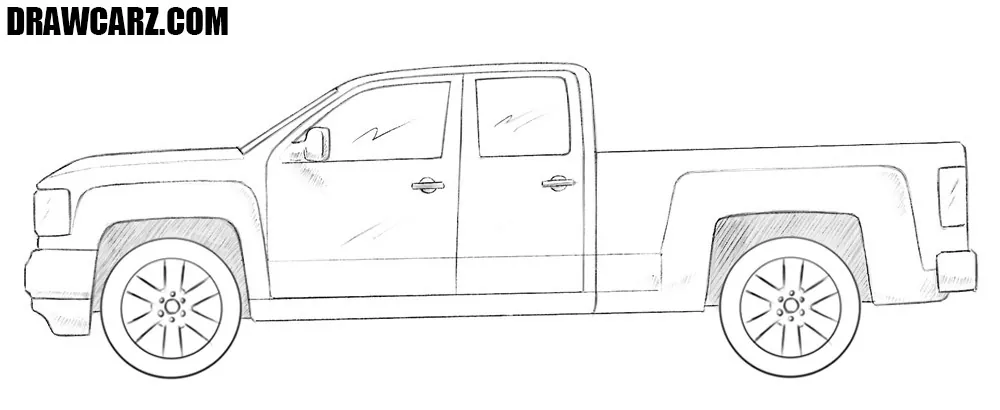 Pickup – a light truck with a closed cab and open cargo area with low sides and rear door. Such trucks are very common in the US because of their practicality and reliability. The team of DrawCarz.com has long wanted to create a guide about this type of body, and finally, the guide on how to draw a GMC truck is done.
How to Draw a GMC Truck
Step 1
First sketch the cabin of the GMC truck. Behind it depict a rectangular cargo area. This truck is quite square and massive, and in step number one we have to convey this in our draft.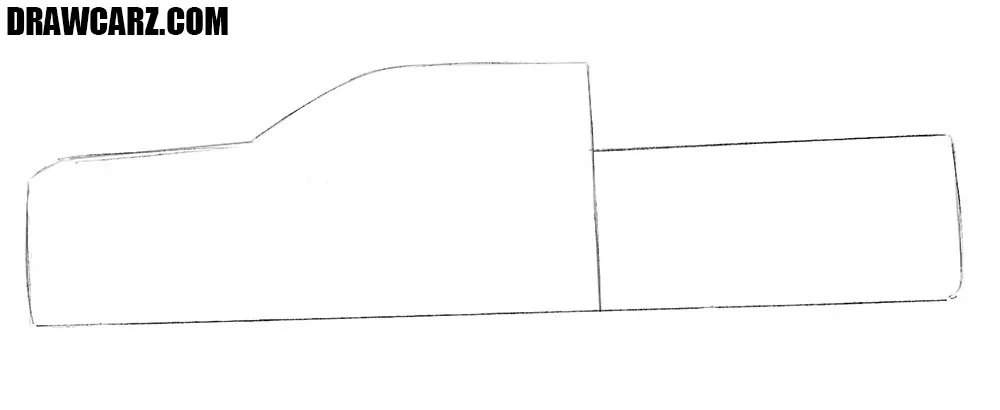 Step 2
Now we draw the most necessary details of our track. Let's start with the lateral windows and mirrors. In the front and rear parts, we design the headlight and rear lamp. Next, outline square arches and round tires.
Step 3
Another important detail of any car is the doors. In this step, we outline them, the rear and front bumper, and the fenders. No less important detail – the rims. Do not forget to depict them in this step.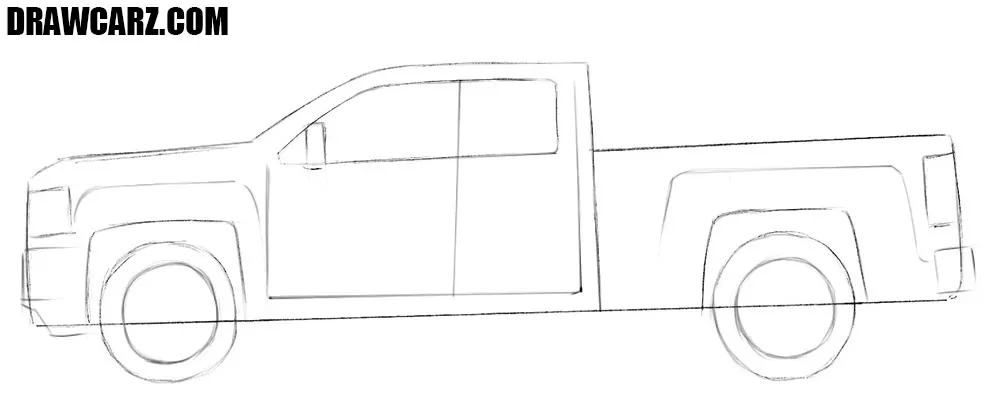 Step 4
The "skeleton' of the pickup truck is complete, and we need to detail it. To make the truck look clearer, gently circle the entire front, making it darker and sharper.
Step 5
The same actions should now be done with the GMC cabin. To do this, we circle the upper part of the cabin, windows, and a mirror. Do not forget to erase unwanted lines as you trace the details.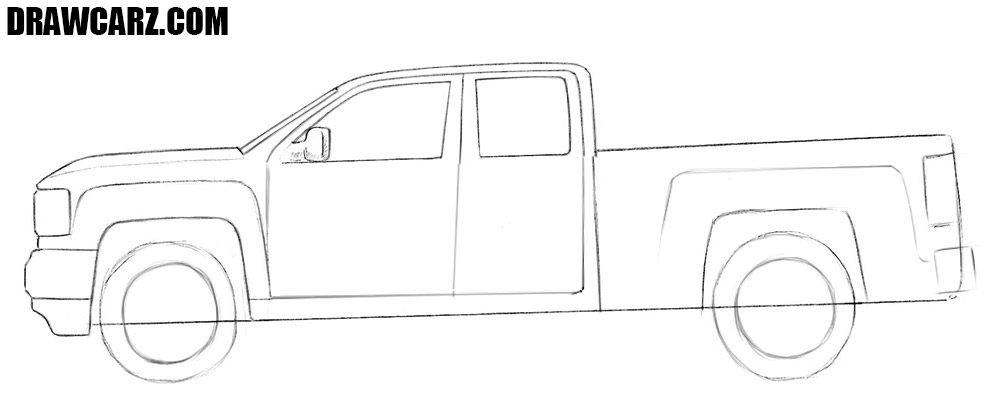 Step 6
An important part of any pickup is their cargo area. In the GMC truck, this part is very massive and straight. Circle all the details of this part of the body, removing unnecessary lines.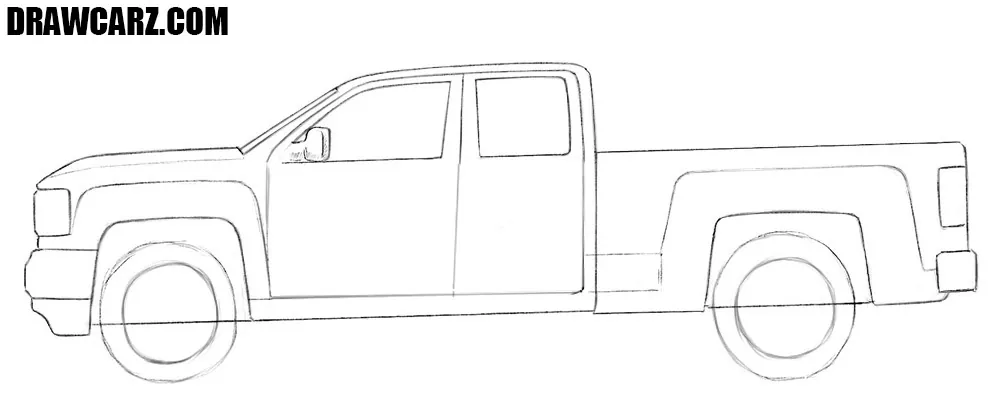 Step 7
In step number seven, we'll finish drawing the body of our pickup truck. In fact, here it will be necessary to circle the doors, depict the handles and the straight skirt of the GMC truck.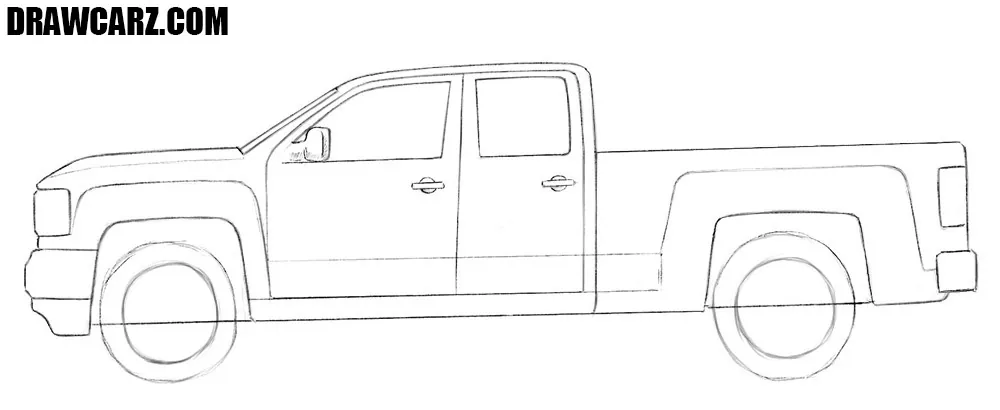 Step 8
Draw out the tires and rims, remove all remained auxiliary lines. Due to the peculiarities of the suspension and the size of the car, the wheels look relatively smaller than the wheels of a sports car.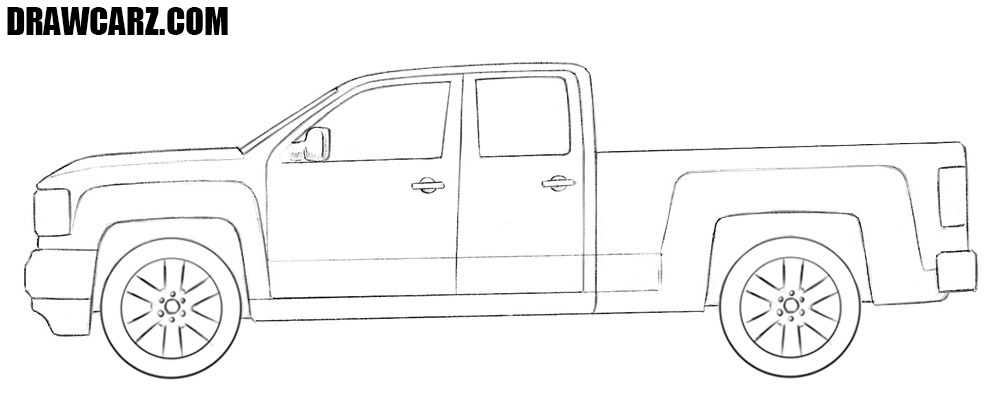 Step 9
Hatching will help your GMC truck drawing look more natural and volumetric. Consider the angle of incidence of light when you draw shadows and highlights.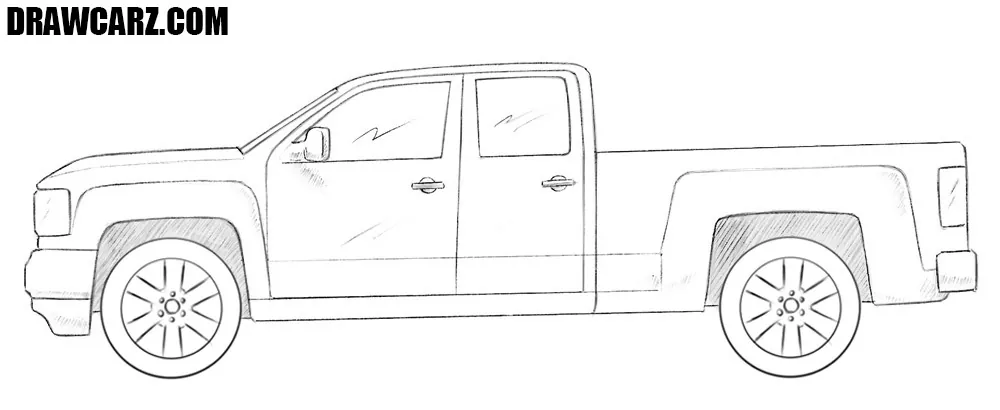 The basis of the lesson on how to draw a GMC track was the GMK Sierra – a full-size pickup from the General Motors Truck Company. GMC Sierra pickup is a more status and expensive version of the popular laborer Chevrolet Silverado. In fact, these two cars are twin brothers, many details of which are very similar and interchangeable.