How to Draw a Mercedes-Benz G-Class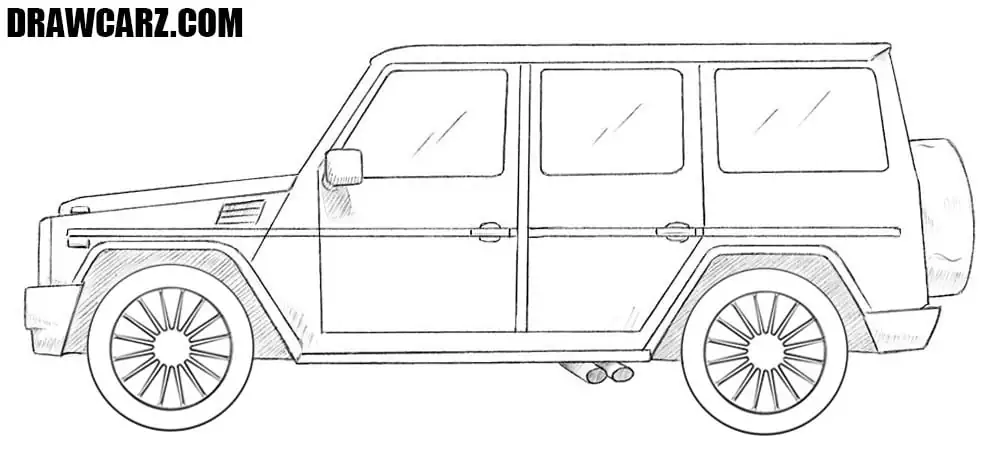 Mercedes-Benz G-Class or Gelandewagen is a real long-liver of the German car industry, for more than thirty years it has evolved from the military to the civilian version. And now it has become a car of representative and very influential people, a car with a criminal past in some countries. In this step-by-step drawing guide, we will show you how to draw a Mercedes-Benz G-Class.
How to Draw a Mercedes-Benz G-Class
Step 1
Gelendvagen has changed little since the '70s, from that era when angular cars were fashionable. In the first step, we will just depict the body of this brutal SUV with loose lines.
Step 2
Despite its squareness, the wheels of the G-Class are still round. Depict these very round wheels and straight lines of windows.
Step 3
As already mentioned, all the lines at Gelandewagen are very straight, including the doors. Let's depict these straight doors, a square rear-view mirror, and a spare tire at the back.
Step 4
The cars usually have round arches, but the Mercedes G-Class adheres to its style, and therefore even the arches consist of straight lines. Draw these arches, bumpers, and wheel rims.
Step 5
It is time to start depicting the details that will be performed with dark lines. With the help of such lines, we depict the protruding arches and the old-school contours of the hood and the bumper.
Step 6
It seems to us that during the design of the G-Class designers did not think about aerodynamics at all. So circle the angular upper part of the Geländewagen (which by the way translates from German as "SUV") with dark lines.
Step 7
Circle the straight lines and depict the moldings. Just below we depict the side skirt and a forked exhaust pipe, which is in a rather unusual place.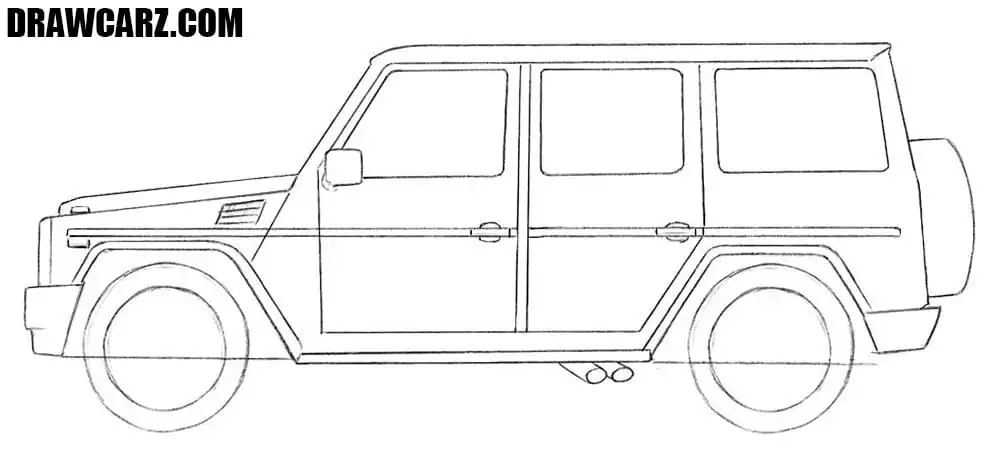 Step 8
Circle the round tires (compasses can be used by the way) and depict the pattern of the rims. Draw the same multi-spoke rims or AMG rims as in our instruction about Mercedes-Benz S Coupe.
Step 9
Using shadows and highlights you can make your Mercedes-Benz Gelandewagen drawing more voluminous and realistic.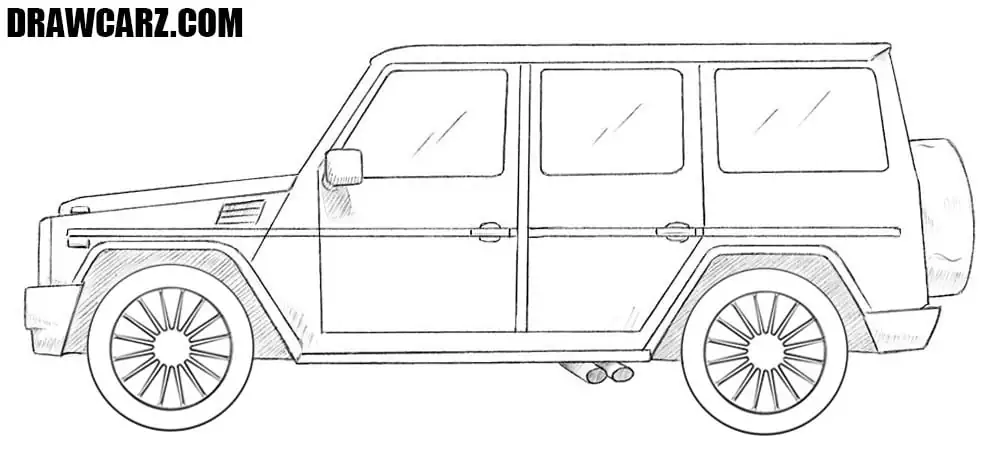 This car is a real icon and especially loved in Eastern Europe. G-Wagen is driven by both military and gangsters. Many people believe that a real G-Class should be black (a classic black square, so to speak). So you can paint it either black or any other color to give even more realistic.