How to Draw an Old Ford Truck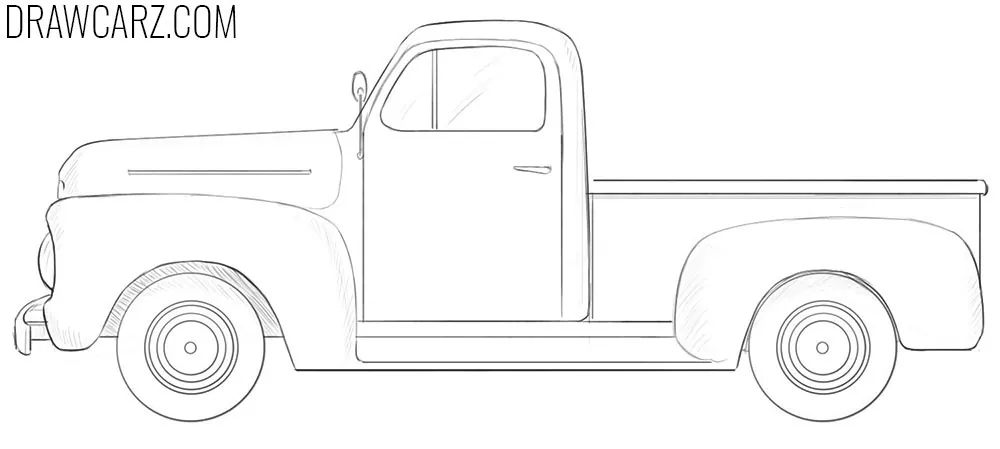 In this drawing instruction, the team of Drawcarz.com will show you how to draw an old Ford truck – a very beautiful retro car from the Ford company.
Earlier, we have repeatedly shown how to draw trucks. And in fact, we'll be using similar drawing techniques here. However, there are some distinctive features that will be covered in this instruction on how to draw an old Ford truck.
How to Draw an Old Ford Truck
Step 1
First of all, with very smooth and light lines, depict the silhouette of the old Ford pickup truck. The silhouette should be visibly divided into a cab at the front and a cargo area.
Step 2
Now with the help of two smooth lines depict the wheel arches. In the same stage, depict the bottom edges of the front bumper and the rear lower edge of the cargo compartment.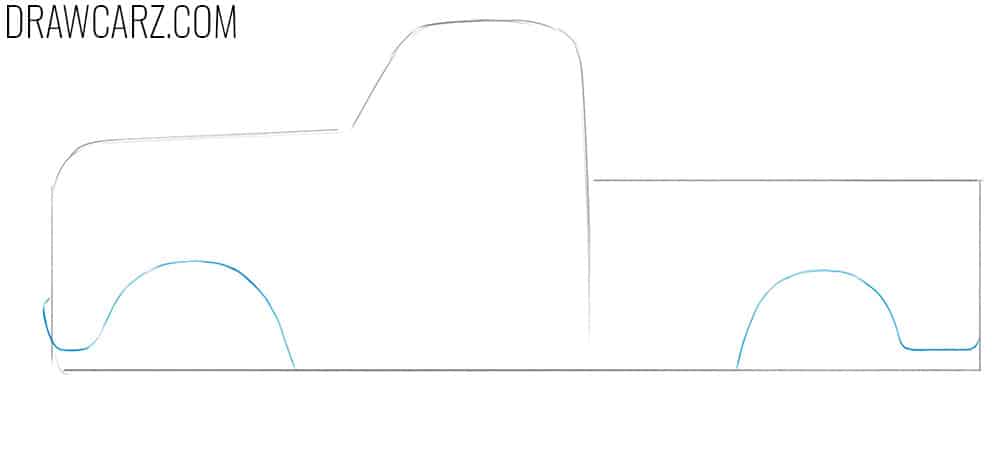 Step 3
Use very smooth lines to depict massive and rounded fenders. Next, use a straight and clear line of the step to connect the front and rear fenders. Don't forget to depict the top edge of the side of the truck.
Step 4
Depict a vertically elongated door with smooth and rounded lines. Depict a window at the top of the door, the top line of which should follow the top line of the roof.
Step 5
Depict a strip in the window frame with a couple of simple lines. Next, depict a convex headlight and a metal bumper underneath. In the same stage, depict the door handle and rearview mirror.
Step 6
Carefully erase all construction lines from the drawing of the old ford truck. Next, depict the wheels. After that depict the rims inside them, which should have a perfectly round shape.
Step 7
Depict some circles within the outlines of the rims from the previous stage. To check the proportionality of the image, look at it through a mirror.
Step 8
First, add shadows to the inner surfaces of the arches. Then continue adding shadows in lighter areas. Don't forget to add some highlights to the windows and headlights.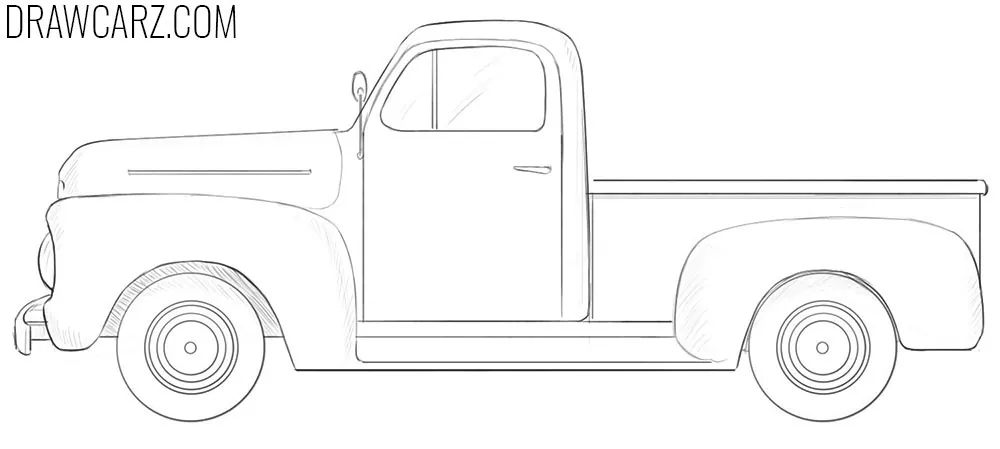 You can continue to add shadows and highlights to make the old Ford truck drawing more voluminous and realistic. In addition, visit our other instructions from the Trucks category, where you will find a lot of interesting articles.