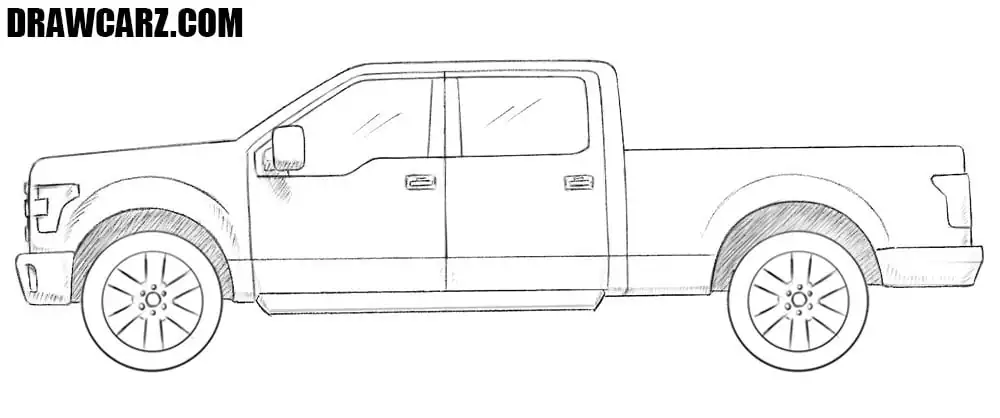 The team of DrawCarz.com loves powerful sports cars, including cool American muscle cars such as the Ford Mustang and Chevrolet Camaro. But we know that our readers simply love to draw pickup trucks and that on our site there is an acute lack of these same trucks. And to give this gap to fill, today we present you a step by step instruction on how to draw a Ford truck.
How to Draw a Ford Truck
Step 1
A pickup truck should be big and powerful, and it should be expressed in its appearance. In the first step, we clearly see the separation into the cabin and the cargo platform. In the form of a loose sketch, let's depict the body as in the picture below.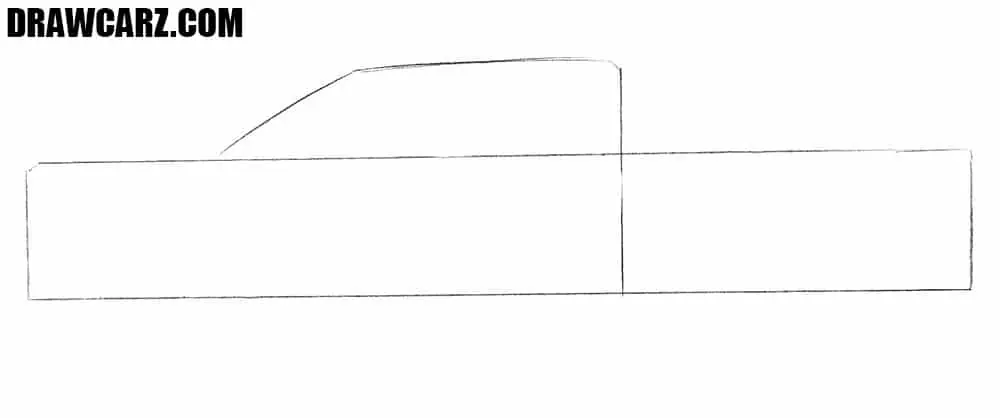 Step 2
Modern trucks from Ford have several proprietary features, such as the unusual shape of the headlamps and the window line. In the second step, we depict them and quite ordinary round tires.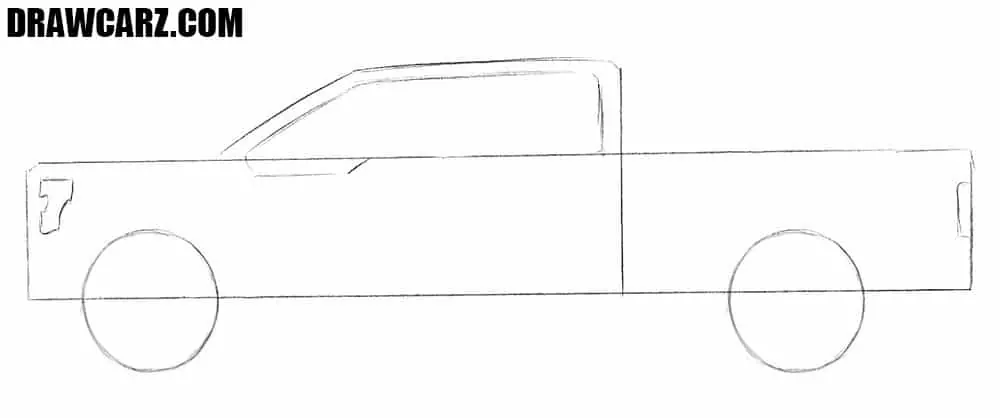 Step 3
The details of this step are quite ordinary for any pickup. In the third step, we depict the simple pickup doors, bumpers, and wheel arches. To make the tires look more natural, add the contours of the rims.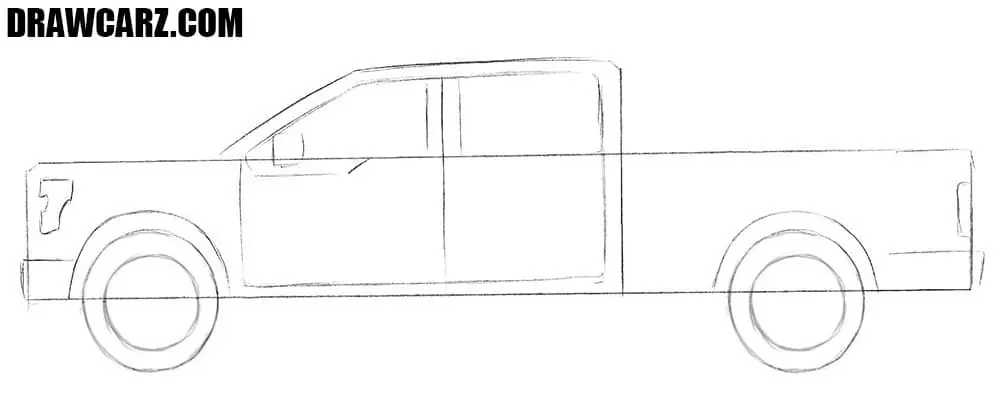 Step 4
We need to make our Ford truck drawing more real, and therefore we will gradually turn the loose sketch into a final drawing. For this purpose, we will circle the front with an unusual headlight, bumper, and front wheel arch.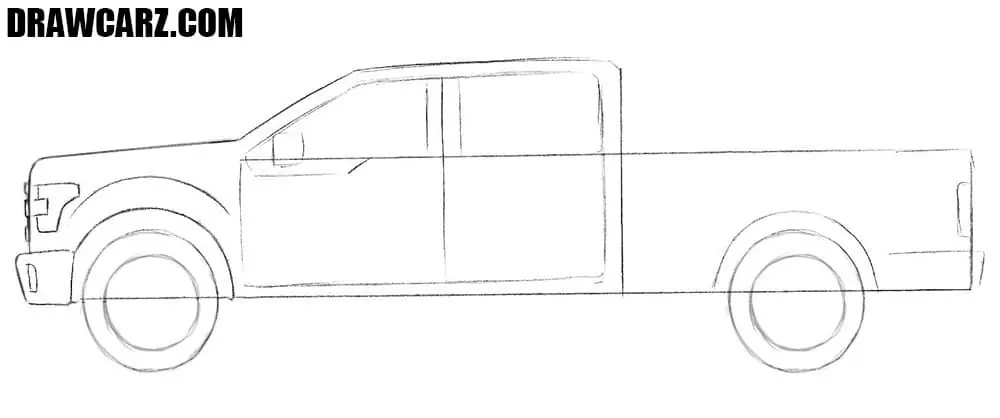 Step 5
As already mentioned, the window frame of pickups from Ford is quite unusual, and here we have to circle this part, as well as the roof and the mirror.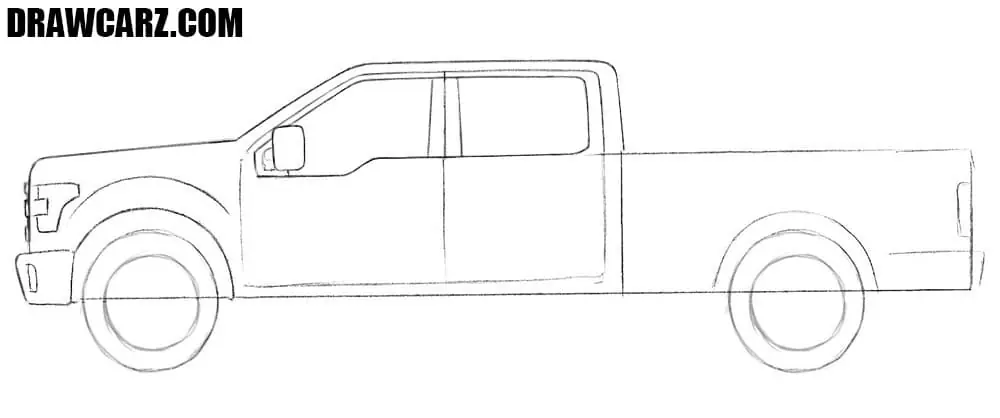 Step 6
In the sixth step of the guide on how to draw a Ford truck, we'll finish drawing the front. Here we need to depict the doors, step, and rectangular door handles.
Step 7
The most important part of any truck is its cargo bay, and Ford's cargo bay is very large and roomy. Let's draw this part, the rear wheel arch, and the unusual tail light with very dark lines.
Step 8
Everything in the pickup truck should be functional, including the rims (as far as possible). Be the most accurate when you depict the rims because they must be clean, proportional, and beautiful.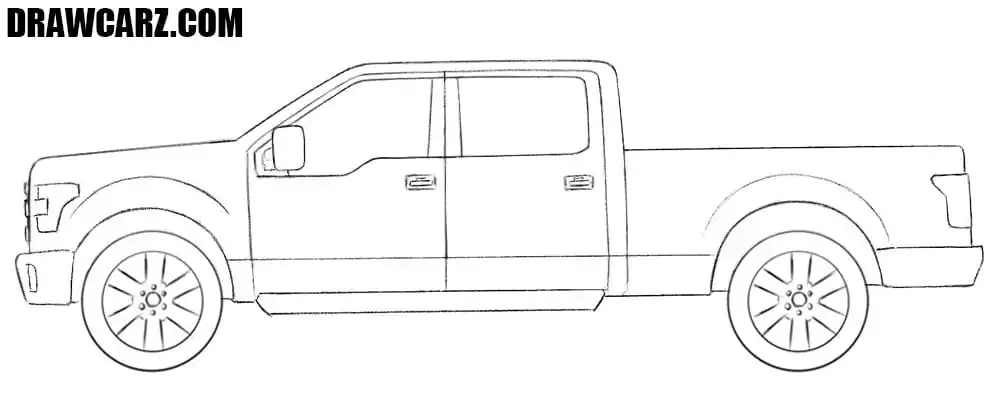 Step 9
So, without shadows and glare, our truck drawing will look too flat and an unnatural. So it's time for us to start working with the shadows and highlights, drawing them in places of bents and places hidden from the light.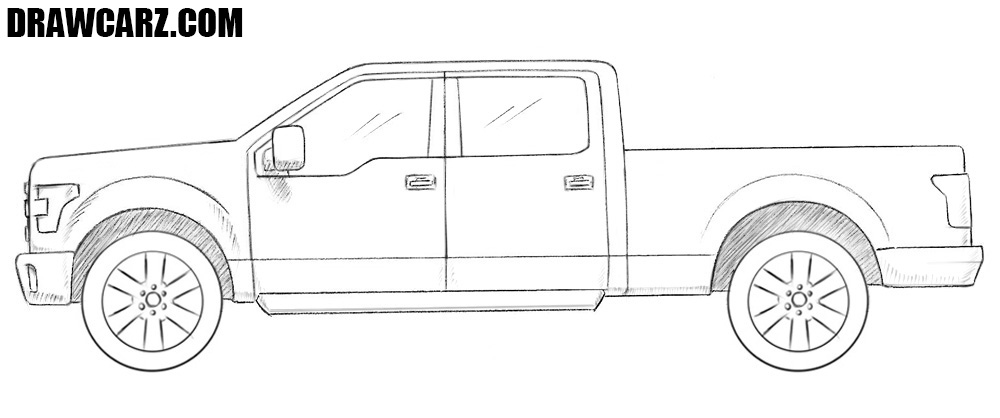 So, if this step by step instruction on how to draw a Ford truck was really useful, and gave you the necessary skills, then we will be really happy.